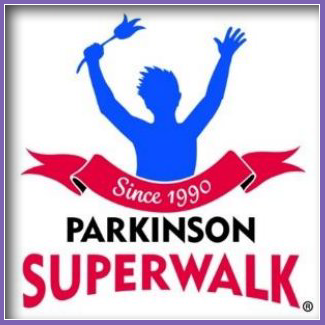 Centennial Park in 100 Mile House
Saturday, September 8th, 2018
People across the province are getting together take part in Parkinson SuperWalk, the single most important provincial and national awareness and fundraising event for Parkinson Society British Columbia (PSBC)!

Join your community at Centennial Park in 100 Mile House on Saturday, September 8th, 2018 to support people living with Parkinson's and their loved ones in your community. The walk is open to everyone and there are two ways to fundraise!

The first is to simply register and fundraise online at:
http://superwalkbc.kintera.org/

Alternatively, you may choose to fundraise offline with a pledge form that is printable from the website:
Click To Download PDF File

Please bring your pledge form and funds raised to any walk location! Proceeds from SuperWalk will enable the Society to invest in research and continue to provide essential programs and services to the 13,000 individuals and their families who live with Parkinson's disease in BC.
For More Information, Please Contact:
Betty, Mirela or Jaclyn
Phone: (604) 662-3240
Toll Free: 1(800)-668-3330
Email:


---


100 Mile House Cottage
Prayer Meeting Group

Last Tuesday of the Month
7:30 - 8:30 pm

6715 Highway 97, 100 Mile House
(turn left at the blue Travelling Workshop sign)

Call for Information:
250-395-3743 / 250-392-1191
---
Alanon

Thursdays - 7:00 pm

South Cariboo Community Health Centre
(At back of the Hospital)

Call for Information:
250-267-7342
---
Alcoholics Anonymous


| | | | |
| --- | --- | --- | --- |
| Monday - | 12:00 pm | | #10 Cariboo Gold Estates |
| | | | |
| Tuesday - | 8:00 pm | | 100 Mile United Church |
| | | | |
| Thursday - | 7:30 pm | | 108 Community Centre |
| | | | |
| Saturday - | 8:00 pm | | 100 Mile United Church |
| | | | (fireside family group) |
| | | | 250-791-1937 |
| | | | |
| Sunday - | 7:30 pm | | Health Centre |
| | | | (Hospital Rear Entrance) |
| | | | 250-791-5286 |
| | | | 250-395-4646 |
| | | | 250-395-6154 |
| | | | 250-395-5368 |
---
Community Bingo


Monday -
7:00 pm
100 Mile Community Club
Doors Open -
6:00 pm
100 Mile Community Hall
Super Star Bingo
8:30 pm
Loonie Ball and Progressive
Wednesday -
7:00 pm
Lac La Hache Community Club
Doors Open -
5:45 pm
Lac La Hache Community Hall
G-Ball, Loonie Ball & Progressive
---
Caregiver's Support Group

2nd Monday of the Month
in Room 163

South Cariboo Community Health Centre
(At back of the Hospital)

Call Penny Millway for Information:
250-593-4521
---
Compassionate Friends

2nd Wednesday of the Month
7:15 pm

Support group for bereaved parents
at BJ's Donuts

Call Andrea for Information:
250-395-4417
---
Diabetes Drop - in

Tuesdays ~ 1:00 pm - 2:00 pm

South Cariboo Community Health Centre
(At back of the Hospital)

Call for Information:
250-395-7676
---
Forest Grove Legion Branch 261


| | | | | |
| --- | --- | --- | --- | --- |
| Crib | | Fridays - | | 8:00 pm |
| Meat Draw | | Saturdays - | | 4:30 pm - 6:00 pm |
---
Great Cariboo Riders

2nd Monday of the Month
7:00 pm

Peter Skene Ogden Secondary
New Members Welcome

Call Marilyn for Information:
250-396-4126

Call Doris for Information:
250-791-6447
---
Hugs

Help Us Get Slim

Tuesdays at 6:30 pm

6300 North Green Lake Rd.

Call Charlotte for Information:
250-456-7504

Call Pat for Information:
250-456-2491
---
Interlakes Carpet Bowling Club

Tuesdays - 1:00 pm - 4:00 pm

Interlakes Hall

Call Kitty for Information:
250-593-4780
---
Mill Site Lodge Fischer Place Auxiliary

1st Thursday of the Month
10:30 am

Mill Site Board Room

New Members Needed
---
Photo Group

1st and 3rd Tuesday of the Month

Bridge Lake Community School

Call Larry for Information:
250-593-4362
---
Royal Canadian Army Cadets
2887 Rocky Mountain Rangers RCACC

Thursdays - 6:30 pm

5830 Horse Lake Rd.

Call Capt. Kevin Seal for Information:
Commanding Officer
250-395-1181
Email:
---
TOPS Club

Take Off Pounds Sensibly

Thursdays - Weigh-in is 6:30 p.m.

At the United Church

Call Kirsteen for Information:
250-395-3344
---
Co-Ed Volleyball

Drop-in volleyball

Tuesdays - 7:00 pm -9:00 pm

Peter Skene Ogden School Gym

Fun, Non-Competitive Recreational Program
Everyone Welcome!

Call Kersti for Information:
250-395-1353

or come into
Canlan Ice Sports Corp.
175 Airport Rd.
100 Mile House
---
Women's Drop-In Volleyball

Mondays - 9:30 am

Lone Butte Community Hall
---
Women's Resource Centre

Advocacy hours:
Wednesdays - 1:00 pm - 4:00 pm

Coffee Talk:
Tuesdays - 10:30 am - 11:30 am
---
Youth Resource Centre

Wednesdays - 5:30 pm - 9:00 pm
Thursdays - 3:30 pm - 9:00 pm
Fridays - 3:30 pm - 9:00 pm

Questions or Suggestions?

Call Nicole for Information:
250-395-3636

Page Brian Pugh for Information:
250-395-1417

Email:
---
Don't see your Event listed?

Email: